Croeso!
Welcome to the Nursery Class!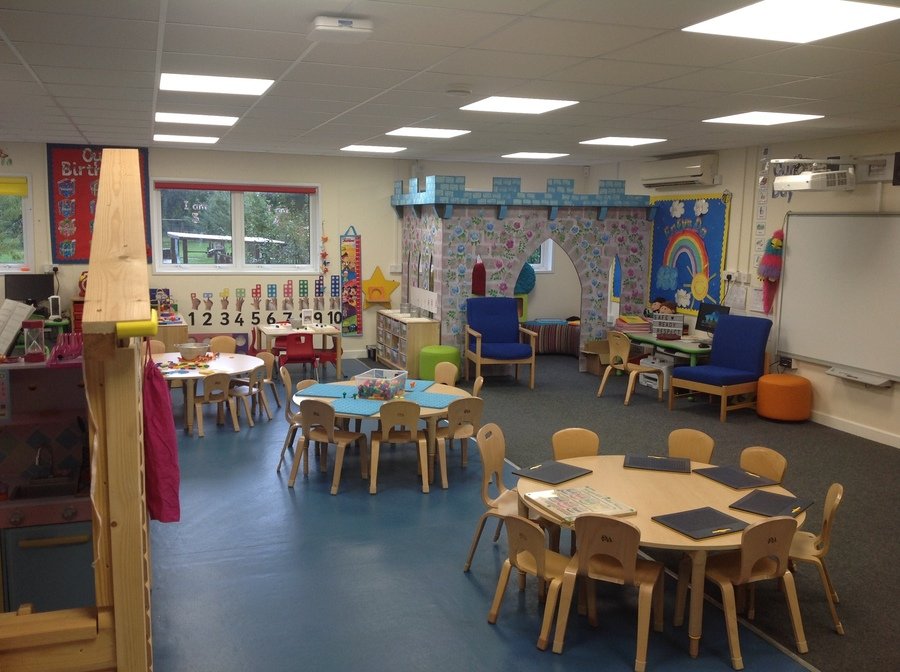 Class Teacher: Miss J. Murnane with Mrs Poynton-Craig and Mrs R. Dodd as HLTA cover
Teaching Assistants: Miss K. Matthews & Mrs J. Healey
LEA Support Staff: Mrs C. Jones & Mr Jackson
The Nursery sessions are between 8.45am and 11.15am and 12.30pm and 3.00pm and the classes are called the Ladybirds (AM) and the Bumblebees (PM).
Within the Nursery session the children participate in a variety of activities such as painting and other craft activities, sculpting, sharing books, mark making, using construction materials and role play.
The outside classroom is used to its full potential and the pupils explore a rich and stimulating environment in which many skills are developed and knowledge enhanced.
Developing the pupils personal and social skills is the pinnacle of the Nursery and the Nursery staff strive to ensure that the children have an enjoyable time and a valuable springboard into full time education.
Here is some information you may find useful...
We have our P.E session every Friday in the school hall this is known as 'Physical Friday'. Please remember to send your child/ren to school dressed in their P.E kit.

We have a forest school session once per week. The children will have an opportunity to learn about the outdoors in our onsite forest school area. If your child is selected to attend the sessions for that half term, please ensure they come to school on that day suitably dressed e.g. Warm outdoor clothing and suitable warm footwear.

We occasionally have access to our Digger Land site and will take small groups of children to play, dig and build. The children thoroughly enjoy their time in Digger Land and they always look forward to visiting again. Waterproof clothing and wellington boots are provided for the children on these occasions.

In the Nursery we hold 'Care to Share' sessions where you can drop in at the end of your child's session to discuss any problems, ask and questions or just to chat with the Teacher. The

Ladybirds

session is at

11.15am

until

11.30am

and the

Bumblebees

session is

3pm

until

3.15pm

every

Wednesday

.

For all up coming events, information and dates for your diary please visit the school website, Twitter page and news letter. Class information will also be displayed on the noticeboards around the Nursery area.
Here are some of the wonderful things we will learn about in the Nursery…
Autumn Term
Term 1A
This Half Term our topic is- Why do you love me so much?
Throughout this topic, we will have the opportunity to-
Read and respond to the stories 'Guess how much I love you' and 'The ugly duckling'.

Sing a variety of nursery rhymes

Talk about who they love

Draw their face using pencils and paint

Explore their senses through various explorations

Take selfies!

Use a variety of creative resources to cut, stick, glue and paint

Use an Ipad to draw their face

Identify different colours in English and Welsh

Ask and answer the question 'Pwy wyt ti?'

Identify Numicon shapes and match them

Count objects and match shapes
At the end of this half term we will celebrate a birthday.
The children will-
Create birthday cards

Write invitations

Use pictures to create their own birthday list

Walk to the post box to post a birthday card

Be part of a birthday party!
… and much more!
Term 1B
This Half Term our topic is- 'Sparkle and Shine'
Throughout this topic, we will have the opportunity to-
Celebrate Bonfire Night

Create firework art

Use ICT to create firework pictures

Begin to understand Remembrance Day

Celebrate Diwali

Compare shiny and dull objects

Begin to count in Welsh

Find out about snow and ice

Recognise numerals and match to Numicon shapes

Explore 2D shapes

Compare 'big' and 'small' objects

Read and respond to the story 'The Gingerbread Man'

Sing lots of Christmas songs!

Dance to lots of Christmas music!

Have a lot of Christmas fun!

We will also be involved in a variety of Christmas craft activities- You will have to wait until the end of the term to see them though!
Hapus a chysurus wrth ddysgu gyda'n gilydd.......Happy and secure as we all learn together