Welcome to the Bears class!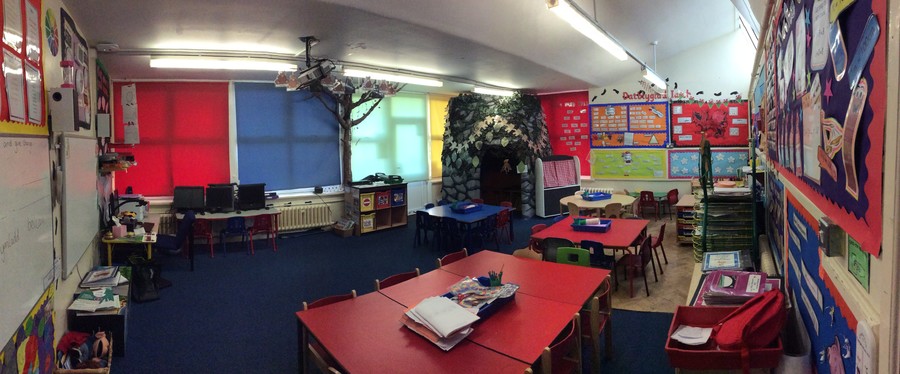 Teacher: Mr Williams
Teaching Assistant: Mrs Parry
Associate teacher: Miss Hughes
General Information.
The class door is opened at 8.45am and the register is taken at 9am, please be in school before this time.
School finishes at 3.15pm.
For the first two weeks we will dismiss the children from the classroom door. After week 3, please allow us a little bit of extra time as we dismiss the children from the door on the yard, NOT our classroom door.
Fruit and milk are given for snack, this can be paid for weekly or half termly.
PE is on a Wednesday. Please ensure all kits are in school on this day.
During Term 1 we visit Abergele Leisure Centre on a Friday for Swimming lessons, please ensure we have our kits on this day and that any earrings are removed or are taped over if ears are newly pierced.
We post pictures of what we are up to on Twitter, download the app and follow us if you haven't already!
We use the Remind app to liaise with our parents, this is free to download and is a great way of communicating so please get it if you don't have it already!
Our 'Share Session' is on a Thursday from 3.15. If you have any questions or concerns then I will be available to speak to you on this day.
The Bears Class is a Year 2 class and at the moment we have lots of wonderful hard working pupils!
Every morning we have Read, Write, Inc sessions, Read, Write, Inc is a phonics programme designed to introduce the skills of reading and writing from initial sounds right through to comprehension and extended writing activities. We also have Mathematics every morning, we learn through different strategies making maths fun!
We work in different groups during the mornings depending on the stage that we are at. Our teachers make sure that the work we do is appropriate to our abilities as well as making sure it is challenging and helps us gain new skills and understanding on a daily basis.
Our classroom is organised into the areas of the Foundation Phase, and each area has activities in it relevant to our current topic. At the beginning of the half term we decide what we want to learn in our topic and help our teachers to plan the areas in the classroom as well as deciding what we want to find out. We also have an outdoor classroom that has similar areas as inside and, again, we plan the activities that will be in these areas and work outside regularly during the afternoons.
We have PE sessions once per week and during one term a year we go to the local Leisure Centre for half hour swimming lessons. Alongside these activities we also have many opportunities during the year including Forest Schools.
As we are in Year 2 we have many responsibilities around the school. We have three School Council Members, two ECO Committee members, two pupils on the Fairtrade Committee and two school buddies who ensure that playtimes at Ysgol Glan Gele are safe and happy. We also have play rangers who help Miss O'Hanlon organise fun and interesting games at dinnertime.
This half term the Bears class are learning all about
The World Cup!
Over the next 7 weeks we will be:
Researching Russia
Making a football stadium
Designing and making a football using Papier Mache
Making the World Cup trophy using clay
Measuring our heart rate after high and low intensity exercise
Making a set of goal posts using recycled materials
Reading the story of 'The missing trophy'.
Creating a different ending to a football story
Football problem solving
Drawing and making symmetrical flags
Making Russian dolls
World Cup tournament
Drawing the Kremlin
Using ICT to create a poster advertising the World Cup Final
Plotting football stadiums on a map of Russia
Researching a team who are playing in the competition
The Scented Garden - Term 3a
During this half term, we will be...
Creating observational drawings of plants and flowers

Learning about the artist Vincent Van Gogh and re-creating some of his work in our own styles

Creating lyrics to a song to teach people how to plant a bulb/ seeds

Creating large scale versions of leaves and flower heads from the rainforest

Taking part in a creative project where we will be planning, designing, making, modifying and evaluating our work

Creating floral collages inspired by the work of famous artists

Learning about flowers and flower arranging from Mrs Roberts

Following the Physical Literacy scheme in our PE sessions

Learning how to stay safe on the internet

Understanding what 'disappointment' means and how we can deal with it

Learning about 'honesty' and how important it is to be honest

Visiting Pentre Mawr to find out what plants and flowers grow there

Making maps, lists and powerpoint presentations about our findings in Pentre Mawr park

Creating a map of our Forest School area

Studying our school grounds and offering ideas on how to improve them further

Carrying out a Flora and Fauna survey

Learning about the rainforest and comparing the features to our country

Finding out where different rainforests are located on a map of the world

Visiting Bodnant Garden to find out about its history and the plants and flowers that they have there

Listening to the stories of 'The Good Samaritan' and 'The creation'

Learning about newspapers and writing our own reports during Literacy Week

Representing data in various ways and analysing it during Numeracy Week

Learning about our 5 senses and taking part in different senses activities

Finding out if plants really do grow towards the light

Planning and creating a fantasy garden

Making lemon and lavender biscuits

Finding out if seeds can be transported during our 'what's on your wellies' investigation

Finding out how plants and flowers transport water
as well as many other exciting activities!
Term 2 - LAND AHOY!
Over the next 10 weeks we will be:
Visiting Talacre Beach
Reading 'The Lighthouse Keeper's Lunch'
Designing disgusting sandwich fillers to scare the seagulls away!
Learning about circuits and their components
Lighting a bulb in a circuit
Learning about Grace Darling
Learning about the work of the RNLI
Identifying RNLI stations on a map of Britain
Visiting the RNLI station in Rhyl
Carrying out an investigation to find the best material to make a boat
Making pirate treasure maps
Programming a toy to move around a treasure map
Making our own lighthouses
Designing and making our own boats
Learning some pirate sea shanties and making our own
Pirate dancing
Talking about Trust and Respect
Thinking about how we can show 'perseverance'.
Talking about all of the people who help us
Bears topic for Term 1b - Moon Zoom.
Over the next 7 weeks we will be:
Reading 'The Man on the Moon' story and linking lots of our work to it
Researching the planets and making a planet book
Writing postcards from the moon
Finding out about space history
Acting as investigators when investigating a crash landing
Writing newspaper reports
Gathering and recording data about space and the planets
Finding out about aliens
Designing symmetrical aliens
Thinking of questions we would like to ask the man on the moon
Preparing questions for the astronaut Tim Peake
Carrying out a balloon powered rocket investigation
Creating books about our topic
Making a solar system model
Creating space sounds and movements
Designing an alien spaceship
Planning and carrying out a space themed party
Making rockets that will take off
Making breathing apparatus for Tim Peake.
Dens and Dandelions - Term 1a
Over the next 8 weeks we will be:
Going on a trip to the park

Creating a journey booklet using natural resources

Searching for and measuring woolly worms

Listening and responding to the story 'Superworm'

Searching for Wizard Lizard's buried treasure

Designing wanted poster for Wizard Lizard and Superworm

Going on a mini beast hunt

Planning and carrying out a growing experiment

Taking part in a scavenger hunt

Writing a poem using our senses

Using a computer to create a branching database

Labelling plants and trees

Learning about forests and woodlands around the world and making comparisons

Sequencing the life cycle of a plant

Designing and building dens

Sketching plants and flowers

Creating symmetrical insects on Purple Mash

Using natural resources to create a collage

Designing and making woodland puppets

Creating woodland sounds