Croeso i'r Koalas
Welcome to the Koalas Class.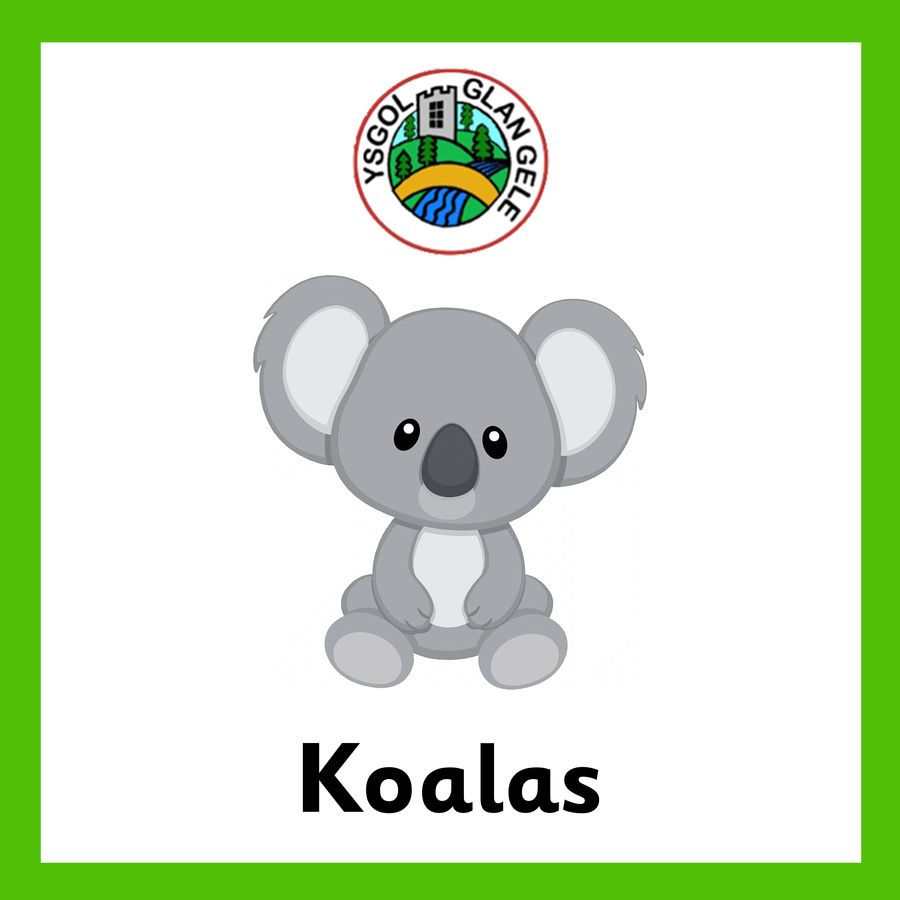 Class Teacher: Mrs Allison James
Teaching Assistant: Mrs Tracey Jones
1-1 Teaching support: Mrs Sarah Stanley
Welcome to the Koalas class! The "Koalas" is a Reception class. We currently have 28 children in the class starting in September 2021. We have 3 members of staff in the class who work closely with the children.
We have a very busy day every day and the children will have lots of fun in class.
Here is some important information for to start off the year:
The class door is opened at 8.50 am and the register is then taken at 9am, so please try to be on time as arrival after this point will result in a "late" mark on the register . The Koalas door is at the back of the school by the Ladybirds and Bumble bees class. After the register has been taken we will then have a W

elsh speaking session called "Helpwr Heddiw" in which one child is picked to ask and answer questions in Welsh.

We ask parents to provide their child with fruit daily, the children will still receive free milk. Please can you put your child's fruit in a butty box with their name on the box, so there is no confusion at snack time as to whose fruit belongs to who.

We post pictures of what we are up to on Twitter, download the app and follow us if you haven't already!

We use the See-Saw app to liaise with our parents, this is free to download and is a great way of communicating so please get it if you don't have it already!

If

you have any questions or concerns then the Koalas staff will be available via Seesaw. Please do not hesitate to get in touch if you have any queries.

Your child will be given a "reading day" at the beginning of the school year. They will read on this day each week. You can re- read the story at home with your child and please complete their reading diary. Red reading bags are available to buy from the school office.

The end of the school day is at 3.15 pm please be prompt when picking your child up as we don't want them getting distressed at home time - thank you.
Every morning the Reception children have Read, Write, Inc sessions. Read, Write, Inc is a phonics programme designed to introduce the skills of reading and writing from initial sounds right through to comprehension and extended writing activities. We also have Mathematics in the mornings, we learn from the Numicon and Inspire Maths schemes. We also deliver specific handwriting lessons in the morning session.
The Koalas Class is divided into the different areas. Each area has a challenge to enhance our learning and develop new skills. This is changed on a weekly or fortnightly basis, changed according to the theme.
We like to learn in the outdoors as much as we can and try to get outside as much as possible. The Reception children will experience Forest School sessions in the term and will also visit Digger Land.
The children will have PE on one day a week (the day is yet known). Please make sure that your child comes to school dressed in jogging bottoms, a comfortable top and pumps or trainers.
Toileting - please encourage your child to ask for help if they need it in this area- if you have worries please pack a bag with spare clothes inside. Thank You
Additional needs - if you need to speak to Mrs James about issues concerning any additional needs regarding your child's health, well being and learning please contact the school office or message her on Seesaw.
Term 1a
This half term we are learning all about…
Old MacDonald's Farm
In the next 6 weeks we will be:
Getting to know each other and taking the time to settle into our new class. We will be learning new rules and getting to know the wider school.
We will be learning all about Farming with a focus on health and well being. The children will meet the MacDonald family and come to understand that they want to become healthier and more environmentally friendly. We will be looking at diet and exercise, good mental and emotional health and how we can be more aware of how our actions effect others and our world.
We will also be…
celebrating a Harvest festival near the end of the half term.
…as well as many other exciting activities!