Croeso!
Welcome to the Owls Class!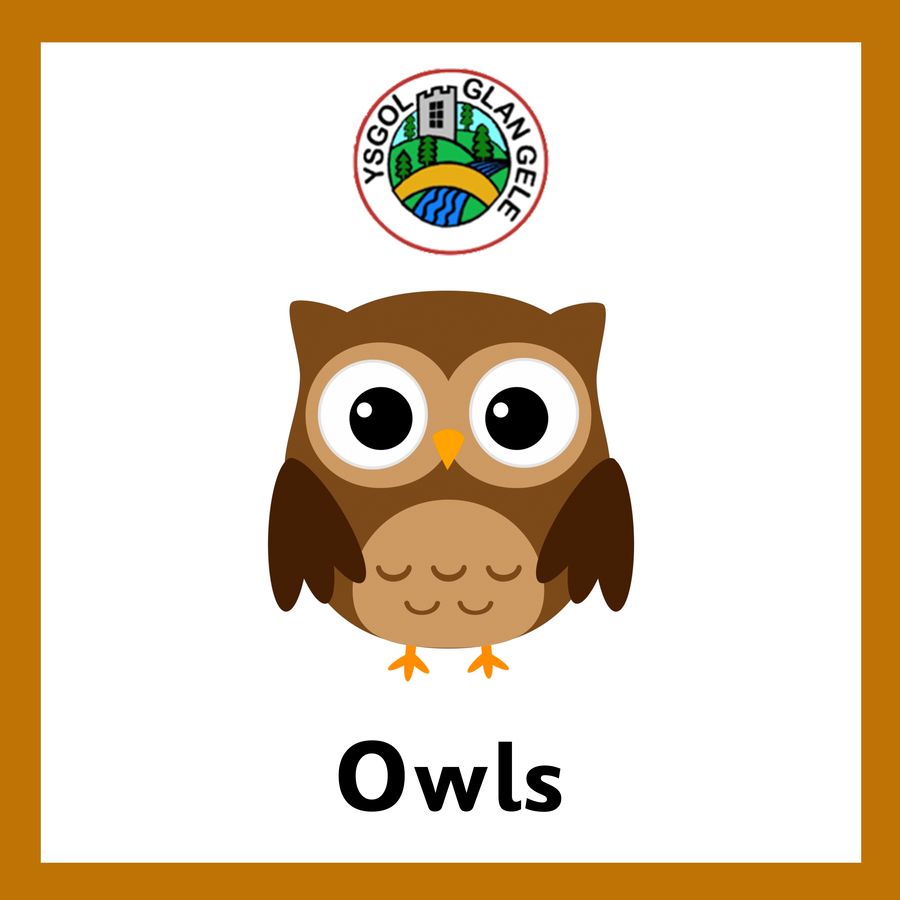 Class Teacher: Miss J. Biddle/Miss A. Jones
Teaching Assistant: Mrs C. Williams
Learning Support Assistants: Mrs Galvin and Miss E. Williams
Welcome to the Owls class! The Owls is a mixed Reception and Year 1 class which currently has 26 hard-working pupils! Our teachers are Miss Biddle and Miss Jones, our teaching assistant is Mrs Williams and we also have two learning support assistants; Mrs Galvin and Miss Williams.
We work hard in the Owls and we play hard too! We have lots of fun learning about interesting topics. At the beginning of each half term we help our teachers to plan our topic. We decide what we want to learn about and which challenges we would like to complete.
Every morning we have Read, Write, Inc sessions. Read, Write, Inc is a phonics programme designed to introduce the skills of reading and writing from initial sounds right through to comprehension and extended writing activities. We also have Mathematics in the mornings, we learn from the
Numicon and Inspire Maths schemes.
The Owls Class is divided in to the different Foundation Phase Areas. Each area has a challenge to enhance our learning and develop new skills. This is changed on a weekly or fortnightly basis changed according to the theme.
We like to learn outdoors as well as in the classroom and try to get outside as much as possible. We have weekly outdoor learning sessions throughout the year and also have the chance to enjoy Forest School and Diggerland sessions.
We like to stay active and have regular Yoga sessions throughout the week, our PE sessions are on a Tuesday and the children are asked to come dressed in their PE clothes on this day.
Some important information:
The school day begins at 8.45a.m. and ends at 3.15p.m, we like to get busy straight away so please arrive on time
The children have milk for snack and are asked to bring their own fruit (please make sure that grapes and olives are cut lengthways).
We post pictures of what we are up to on Twitter, download the app and follow us if you haven't already!
We use the See-Saw app to liaise with our parents, this is free to download and is a great way of communicating so please get it if you don't already.
Your child will be given a reading book and reading diary that will come home so that you can read with them and let us know how they are getting on. In school t

hey will read on this day each week and this is when books will be changed, but please ensure they bring their books to school every day.

Enquiry Books are sent home fortnightly on a Friday. In these books the children have a range of activities to support their learning at school - please make sure they are returned according to the schedule in the front of the book.
Over the school year we will cover a variety of topics to develop our skills and knowledge and learn about lots of exciting things!
Please have a look below to find out more...
Term 1a- Under the Sea
This half-term we will spend time meeting our new friends and exploring our new classroom.
As part of our 'Under the Sea' topic we will be...
Taking part in creative activities linked to the sea, seaside and coast.

Listening to the stories Sharing a Shell, Starfish Stan and The Rainbow Fish.

Enjoying dance and movement sessions based on the book, Commotion in the Ocean.

Learning how to stay safe on the beach and in the water.

Describing the colours, sounds and sensations of the seaside.

Writing about the sea creatures that surround Wales.

Practising number formation, addition and subtraction based on the book, Octopants.
We will also...
Develop our Welsh language skills and confidence when sharing information about ourselves.

Learn about our 'Brain Buddies' and the importance of having a Growth Mindset

Explore the

Unicef Rights of the Child and what they mean to us.

Celebrate Harvest and give thanks for the food that grows.

Prepare for and create an end of term video of our adventures so far.
...as well as many other exciting things!